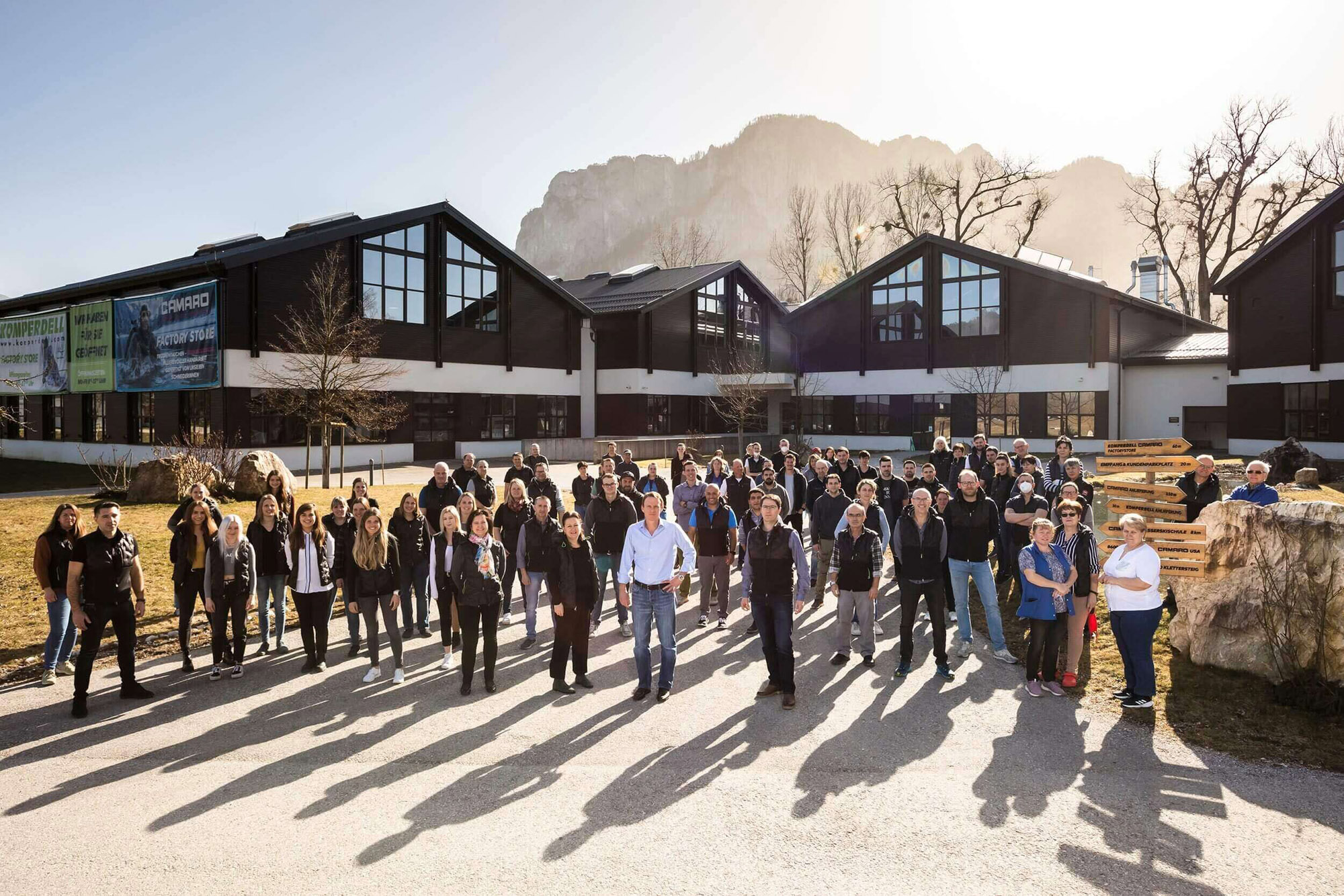 pioneer- trendsetter - multiple award winner

Dimensional steps in innovation, products and service
POLES– PROTECTION– SNOWSHOES
We are pioneer, trendsetter and series winner in the sectors poles, protectors and snowshoes!
Our actions and our products are characterized by striving for the highest quality and new innovations. We have more than 50 years of experience and are proud of having conquered new markets and being market leader for decades.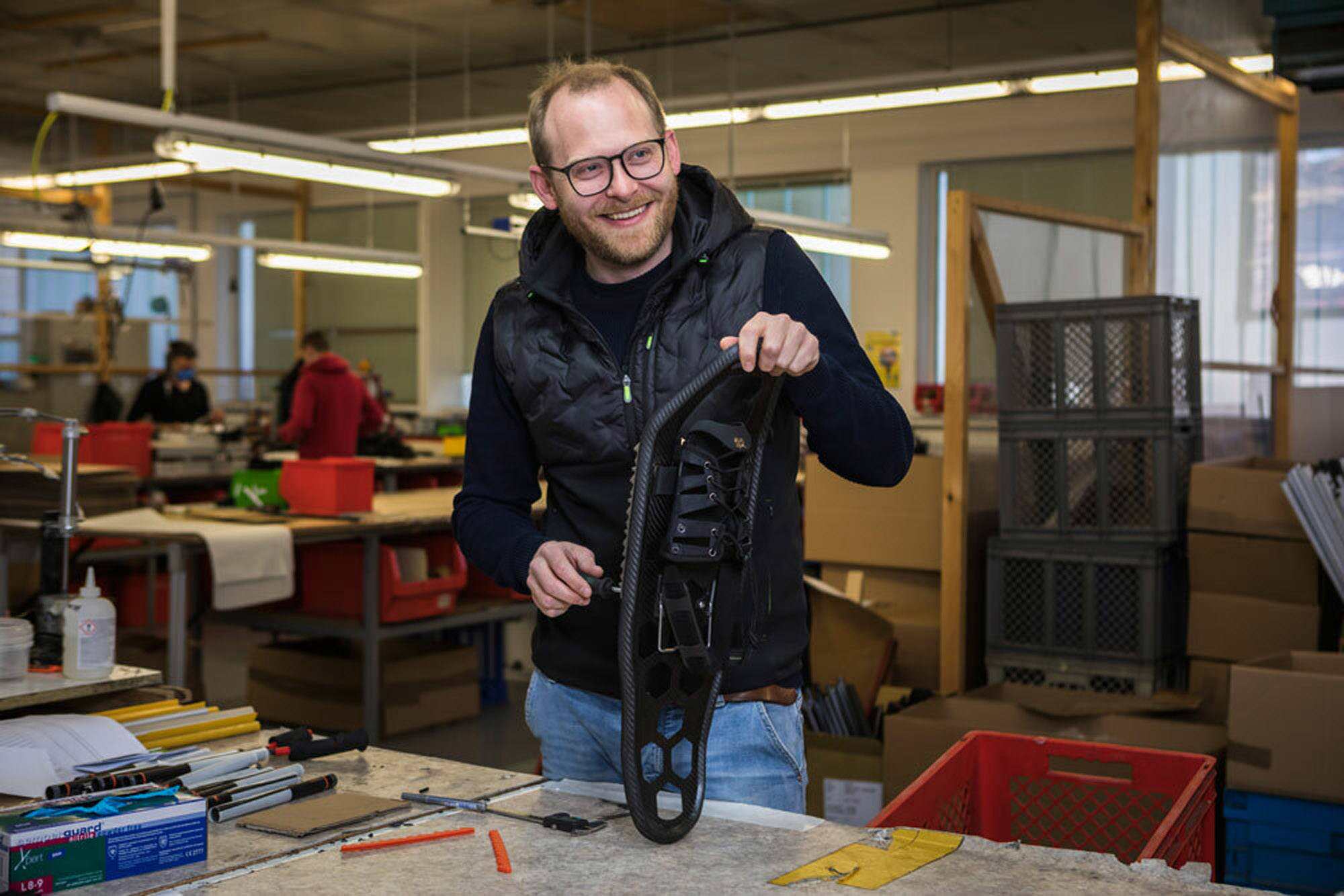 TODAY in snowshoes

We offer the lightest snowshoe - in one cast, completely out of carbon.
100% carbon, 50% less weight - only 593 grams.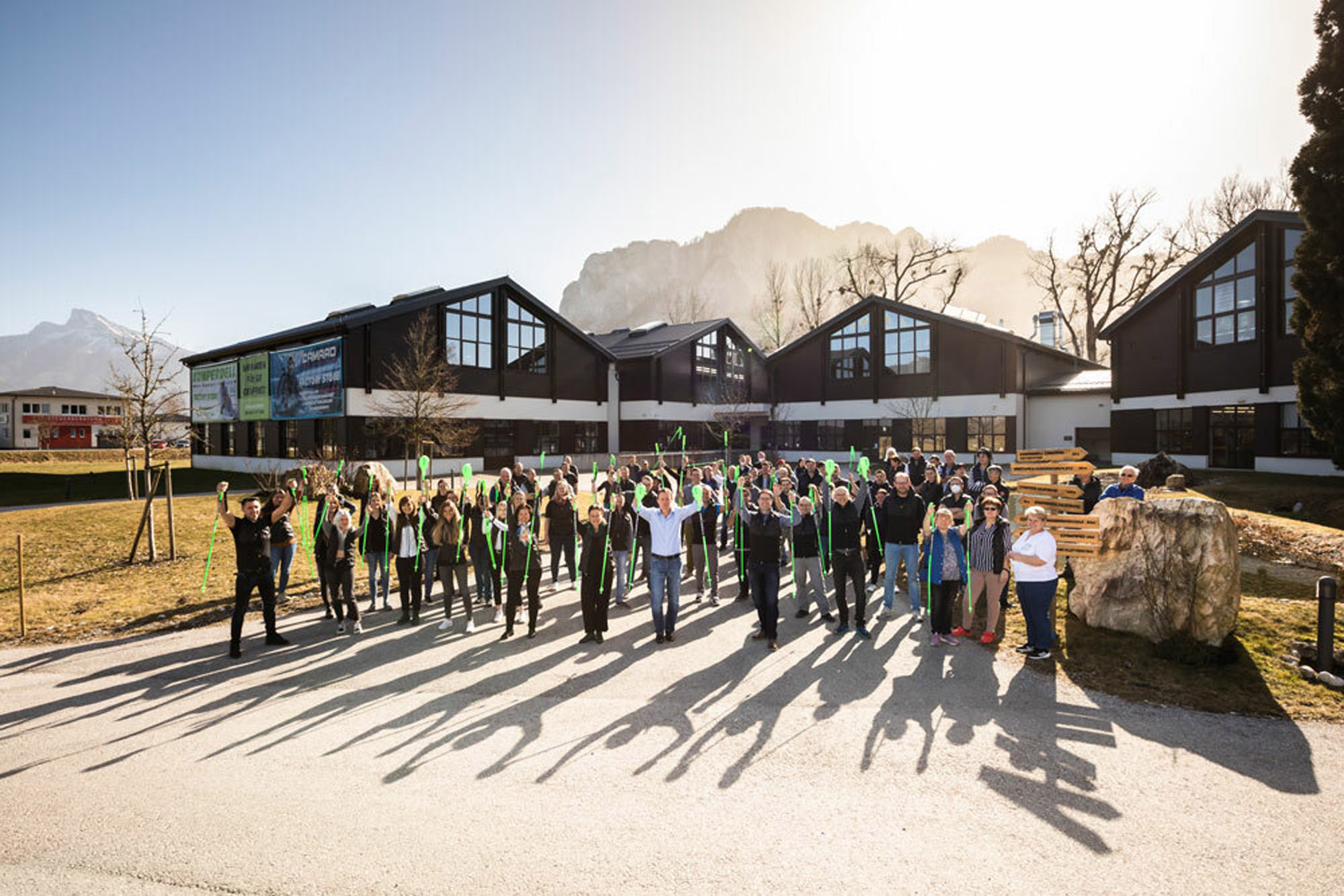 TODAY in poles

High quality poles, manufactured in the heart of the "Salzkammergut" - 100% made in Austria. Honest quality from Austria since 1922. For almost 100 years till today we produce every single pole in our own factory in Austria. We stand with passion for innovation, exceptional service and a conscious approach to our environment.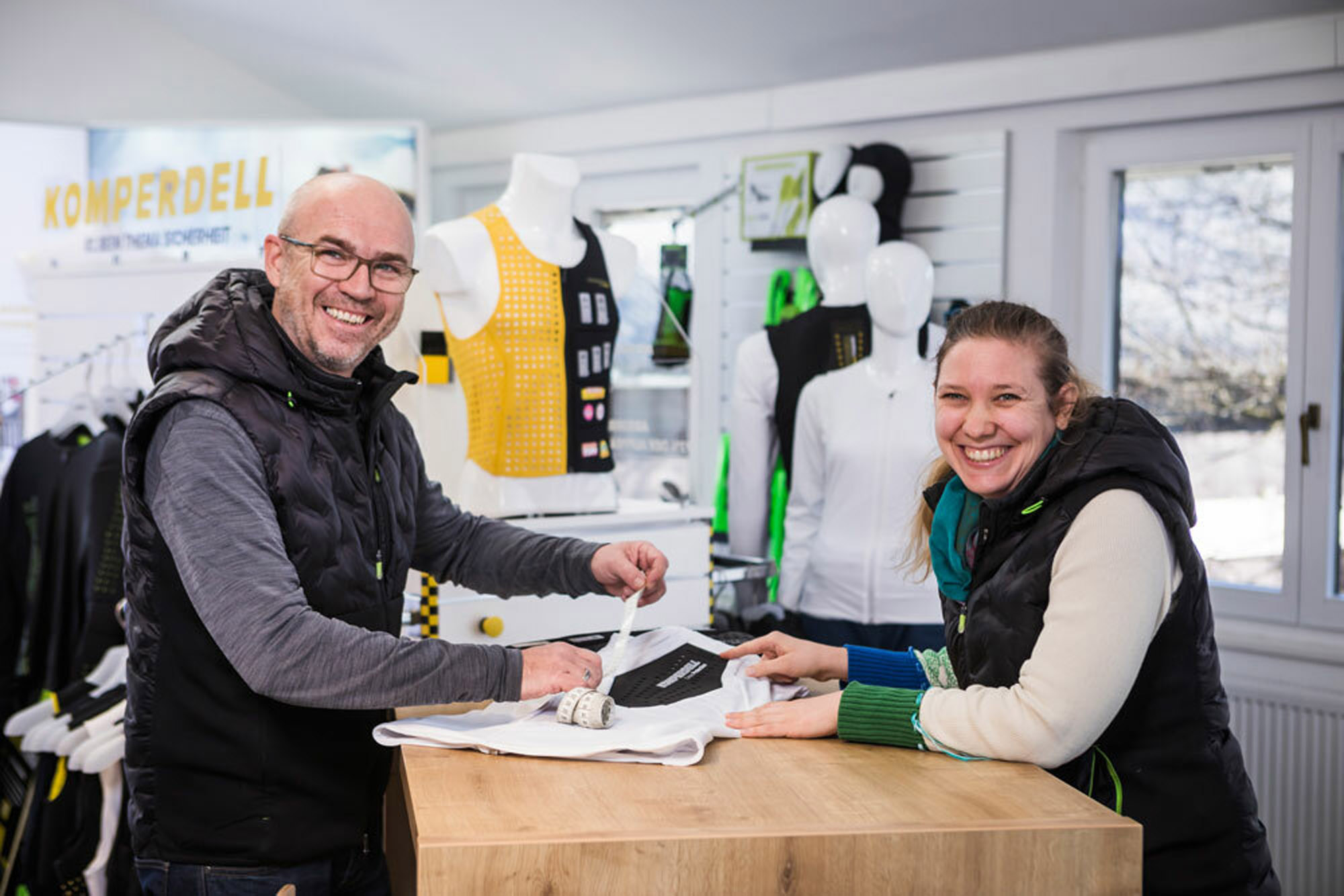 TODAY in protection

Pioneer since the very first hour. For more than 20 years we develop, design and produce protectors for leading brands in motorsports. Today we are the leading manufacturer of protection for motor sports, winter sports, equestrian sports and bike sports. No other brand is as diverse and experienced as we are. We deal with basic materials and the principles of impact protection to develop a product where protector and garment complement each other perfectly. That's only possible with our own material research department at our headquarters in Austria.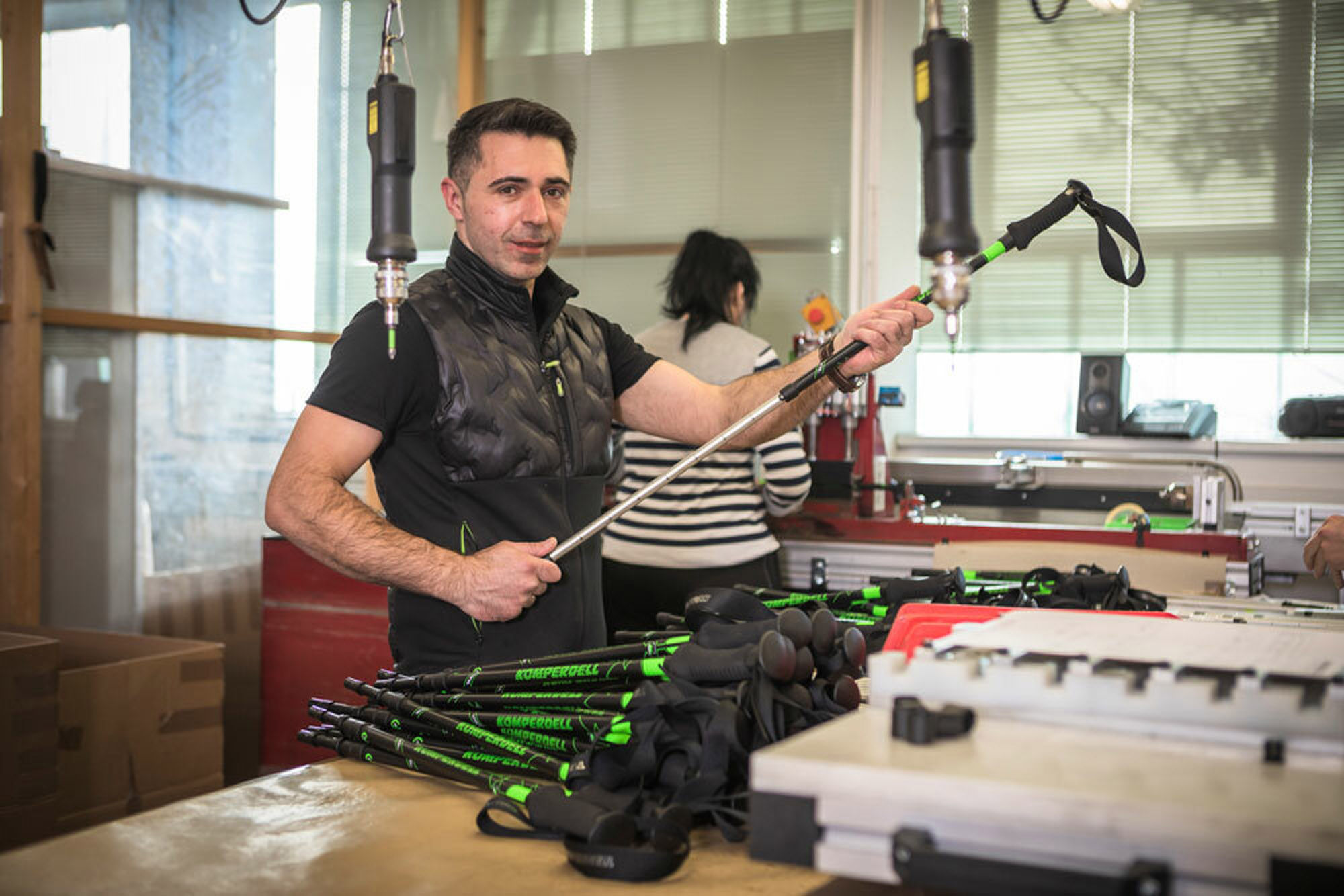 2020
100% made in Austria since 1922
Due to the COVID-19 crisis, the demand for outdoor sporting goods and thus for touring and trekking poles as well as snowshoes increased. Despite a reduced turnover due to the crisis, one parameter got more and more important – 100% made in Austria!
So, we were able to start production again after only 4 weeks of lockdown. We have been producing the highest quality poles for almost 100 years and the crisis has once again confirmed our passion, and heart and soul which helped tremendously in these turbulent times.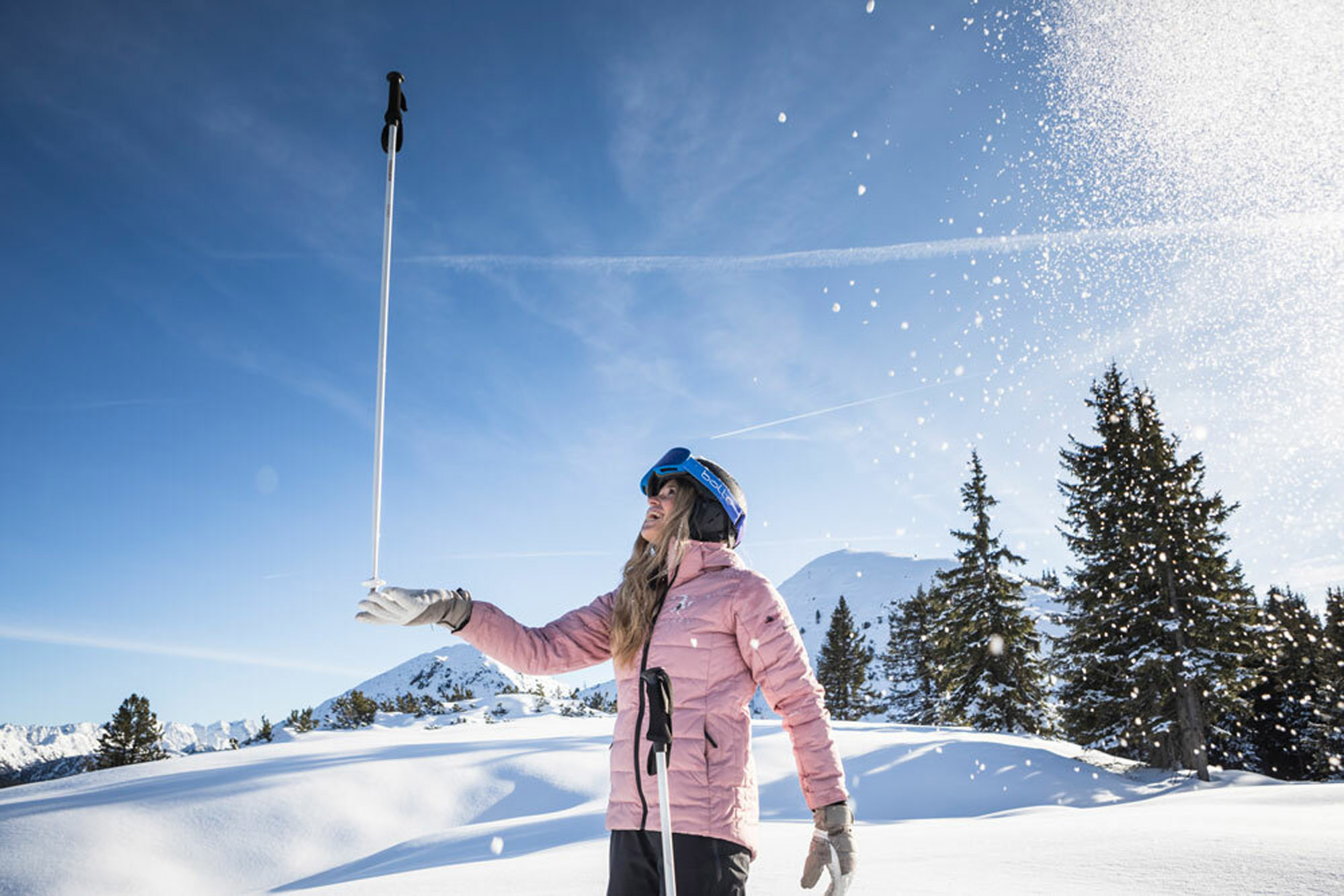 2019
Development of the world's lightest alpine poles
We are the only manufacturer to produce our carbon shafts in our own carbon production plant and therefore we introduced the lightest alpine poles with 40% less weight compared to conventional carbon poles on the market. Extreme lightness combined with a fantastic swing behaviour – felt with every turn you take.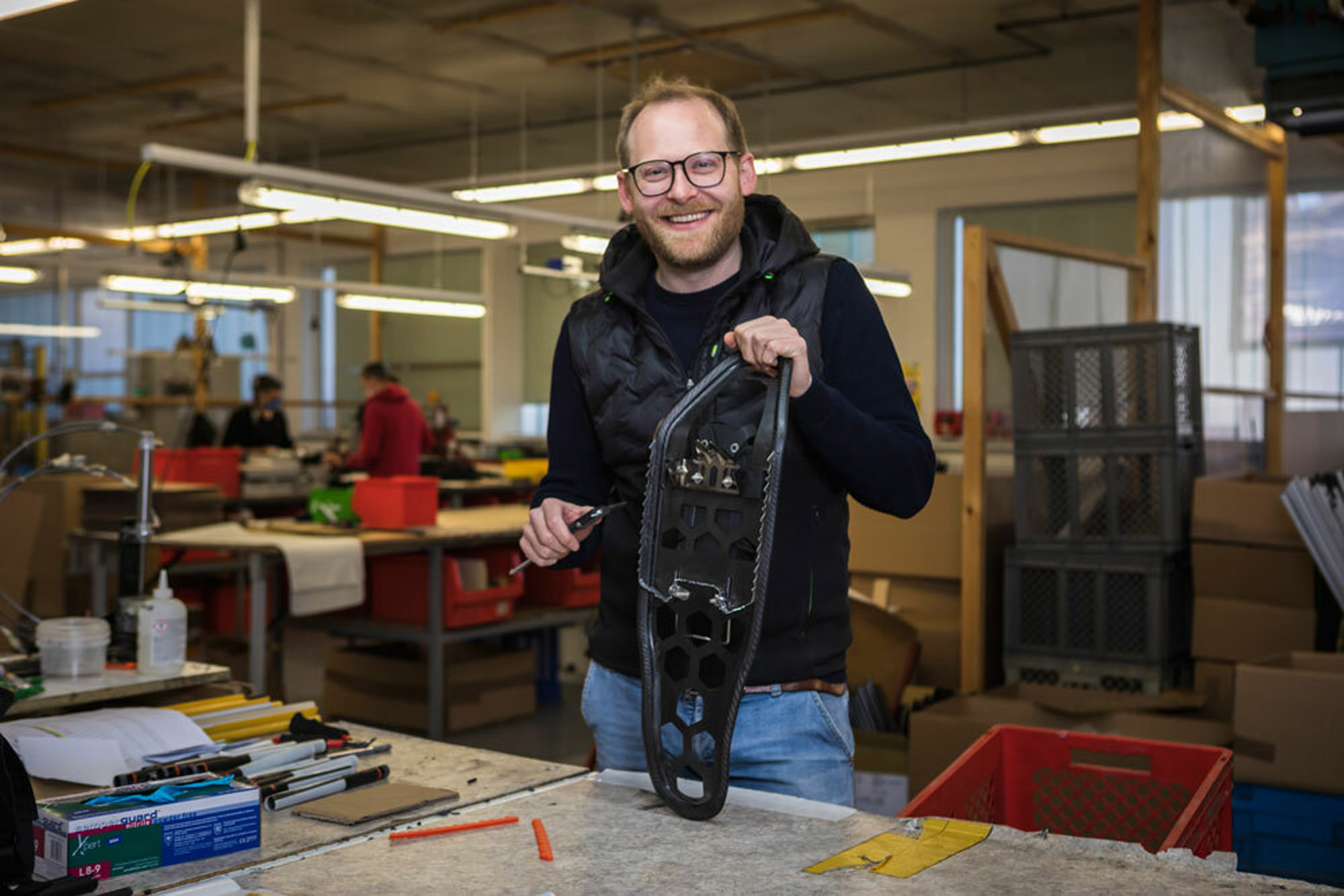 2018
Development of the lightest snowshoe, 100% made of carbon
For more than 15 years we have been working intensively on developing and producing carbon. To develop a snowshoe with 50% less weight, we not only had to switch materials to carbon but also completely rethink the traditional way of a snowshoe design. Now we offer by far the lightest snowshoe on the market. We have the only snowshoe which is completely made in one piece out of carbon.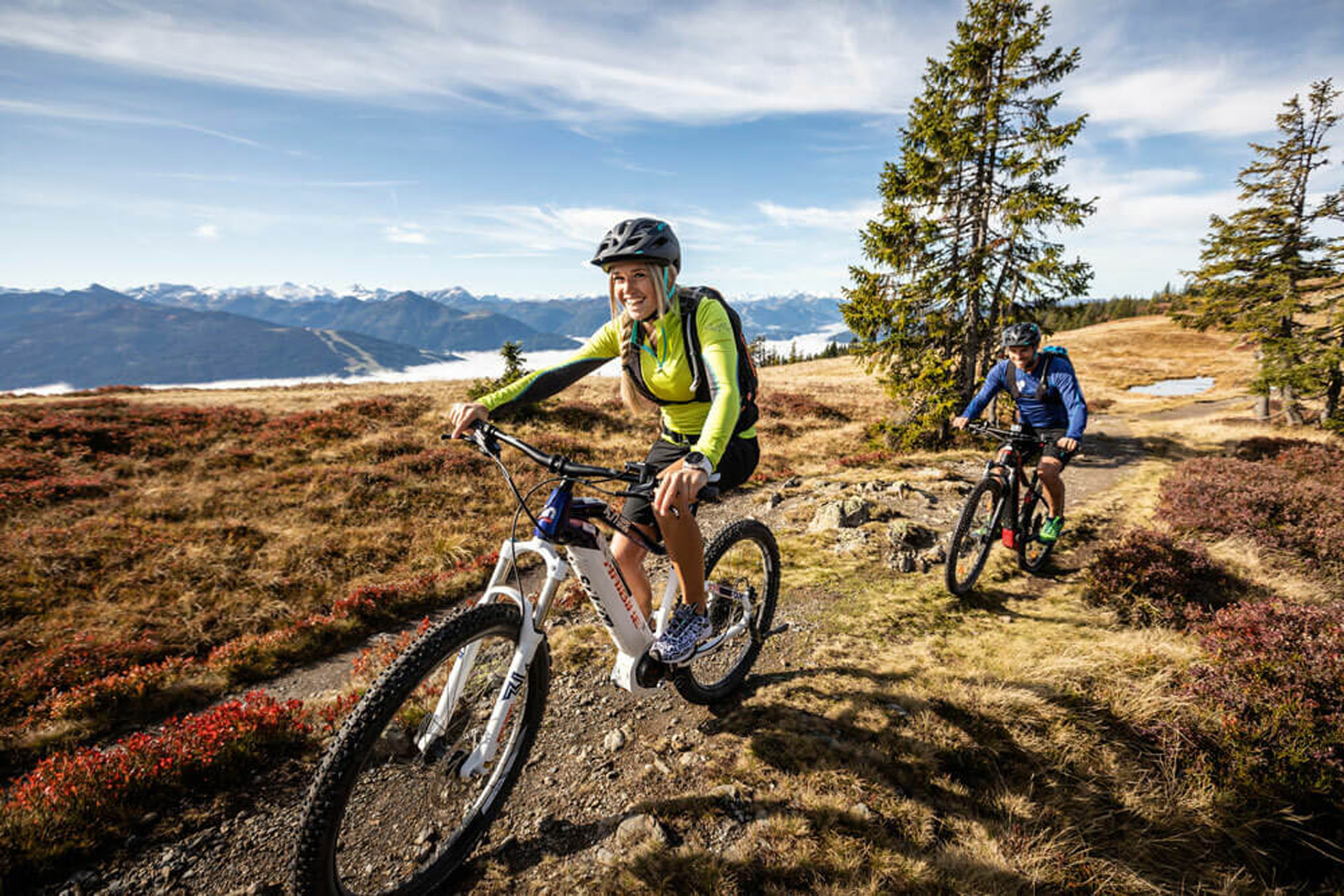 2016
Entering the bike market with our back protectors
We entered the bike market with our latest development and immediately won the "EUROBIKE AWARD". Pioneer, trendsetter and series winner – KOMPERDELL is the number one in safety! What makes our Komperdell bike protector so special? The protector insert consists of an extremely flexible and breathable multilayer foam. Our protectors have integrated pockets, are ergonomically shaped and offer best wearing comfort as well as extreme lightness. They are multi-impact capable and thus do not have to be replaced after a crash.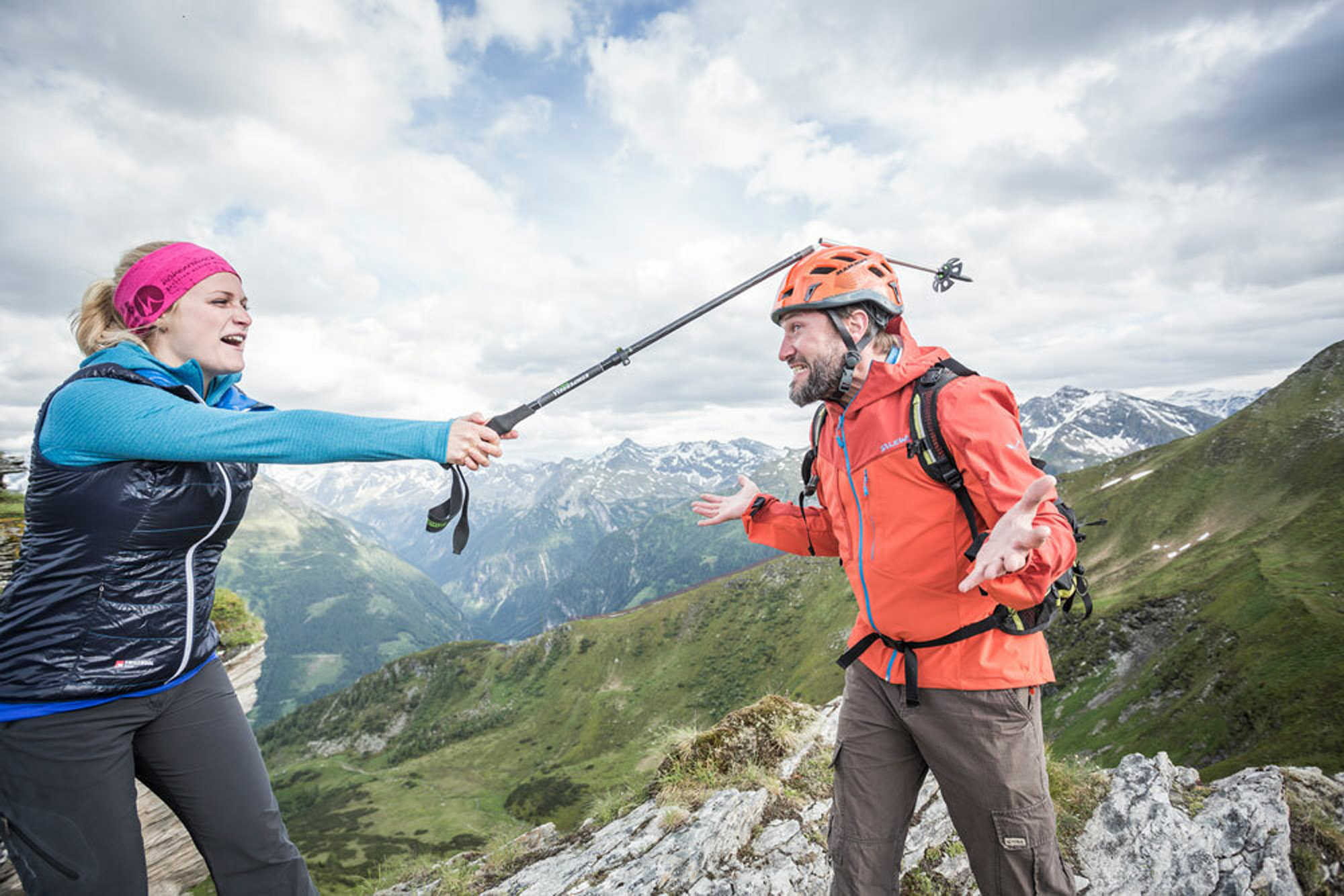 2012
3-year free repair service
Since 2012 we are offering our unique and incomparable 3 year free repair service – ground-breaking and innovative at the same time! We'll fix your pole no matter what happened or where you're from. Without any queries, directly to the manufacturer, works with any country.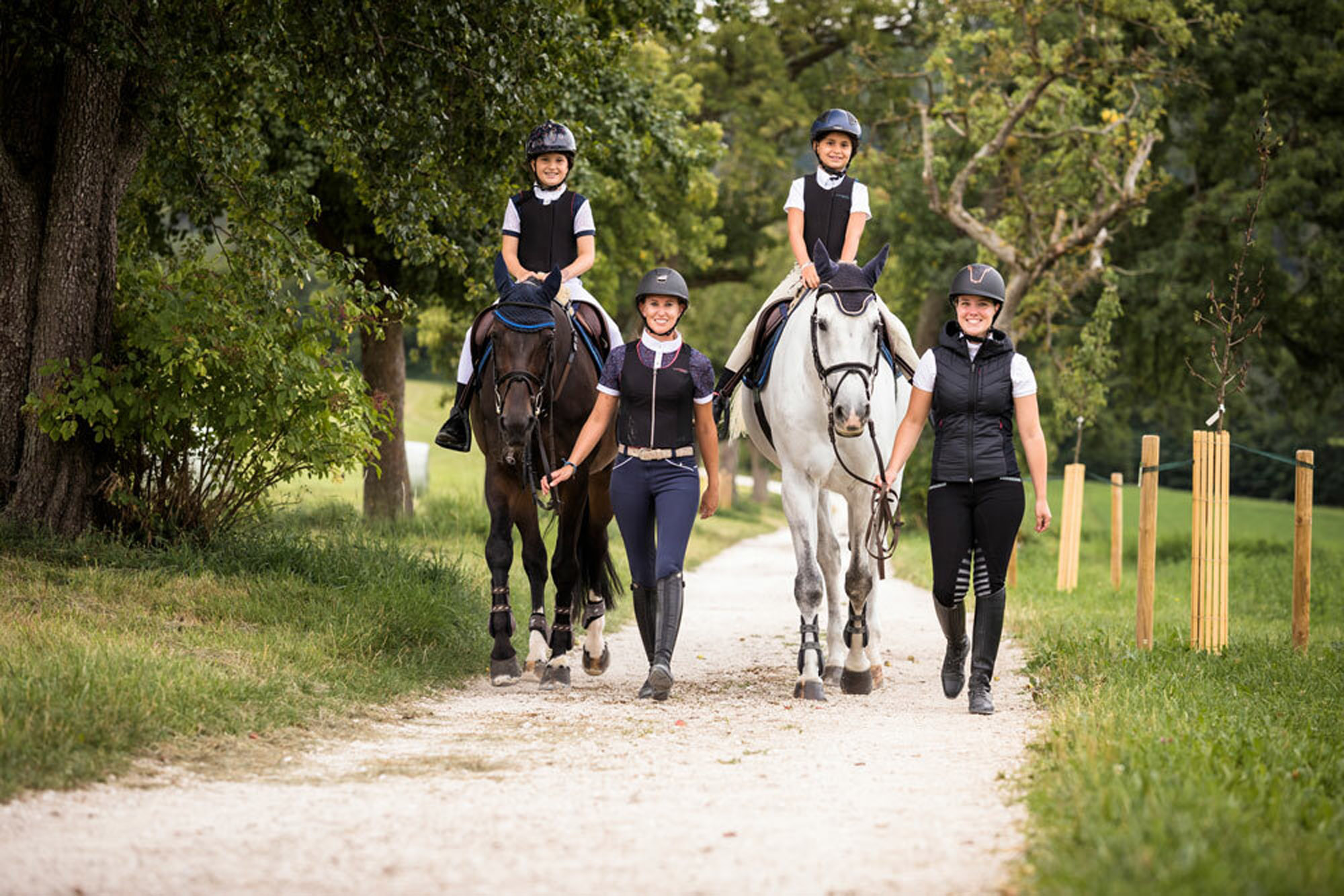 2010
Entering the equestrian market with our back protectors
For years, we set new standards with our innovative protectors in different fields. They did not only win several awards; the product division also became a new mainstay for us as we built up an extremely worthy know-how out of the most extreme areas of efficient safety protection. This means, we can also offer maximum of safety in equestrian sports.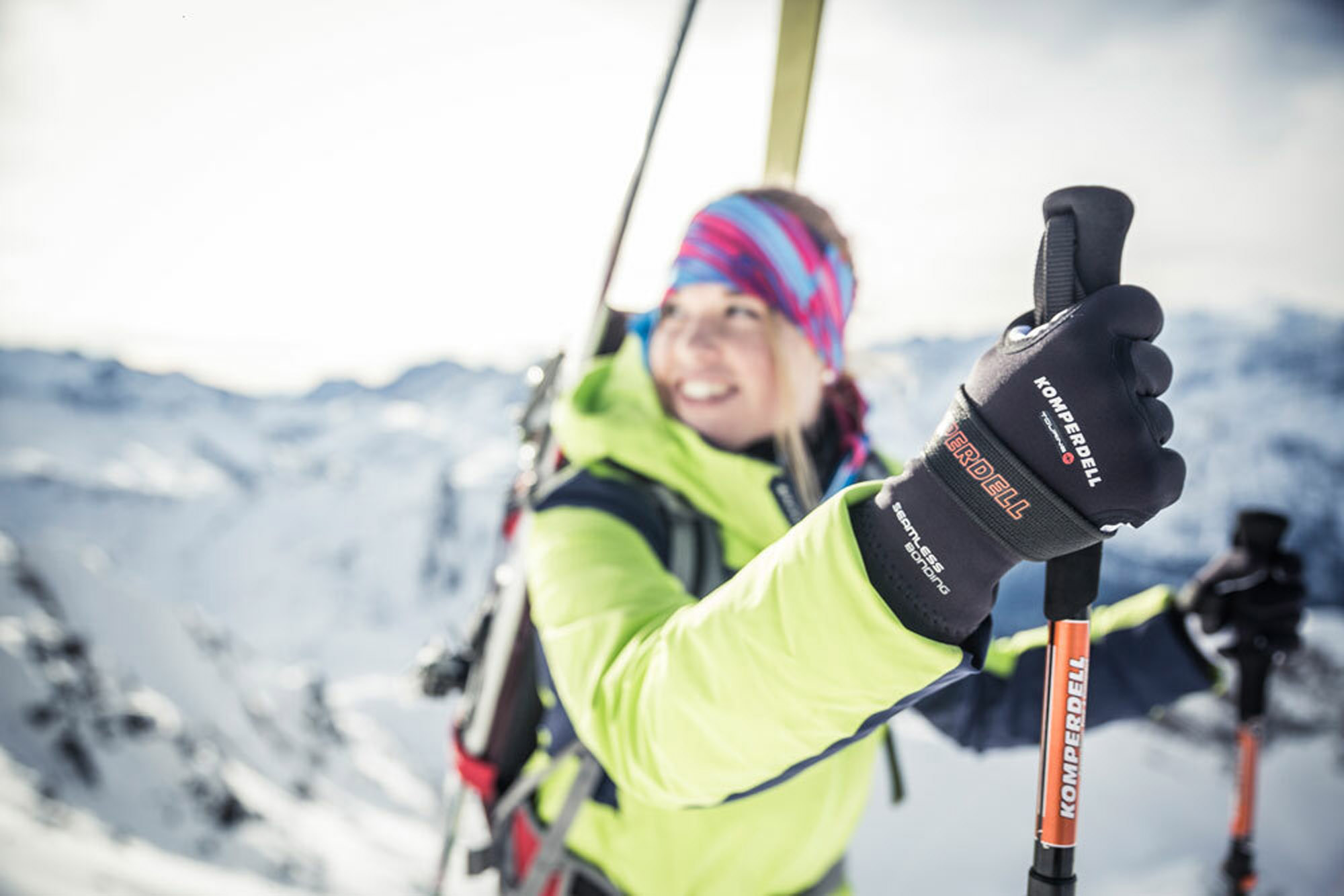 2007
Development of seamless bonding and protection

Komperdell proudly presented a world novelty and superlative - seamless bonding. A completely new production process made possible what never existed before - uniting two materials without needing a single seam, only with special bonding and welding techniques. This results in outstanding advantages. With the new Seamless Bonding gloves KOMPERDELL created a completely new sector of glove processing.
Our protectors also set new standards and trends according to safety, wearing comfort and fit. From the very first beginning we revolutionized the hardshell-dominated market with our flexible foam material. Our dual-density foams nestle to the body when worn while the multilayer and multi-chamber design guarantees enormously flexible and moveable back protectors, approved according to EN 1621-2. Again and again we came to the market with innovative new products.
2006
The stiffest carbon pole
Komperdell developed the stiffest carbon pole, which resists a maximum load of 200 kilos, but is robust, durable and lightweight though. In a newly developed production process, we rearranged the Carbon fibers to achieve a higher strength at same weight. Our protectors gained much more attention and Komperdell was series winner in several product tests. Our women vest even got nominated for the Volvo Sports Design Award.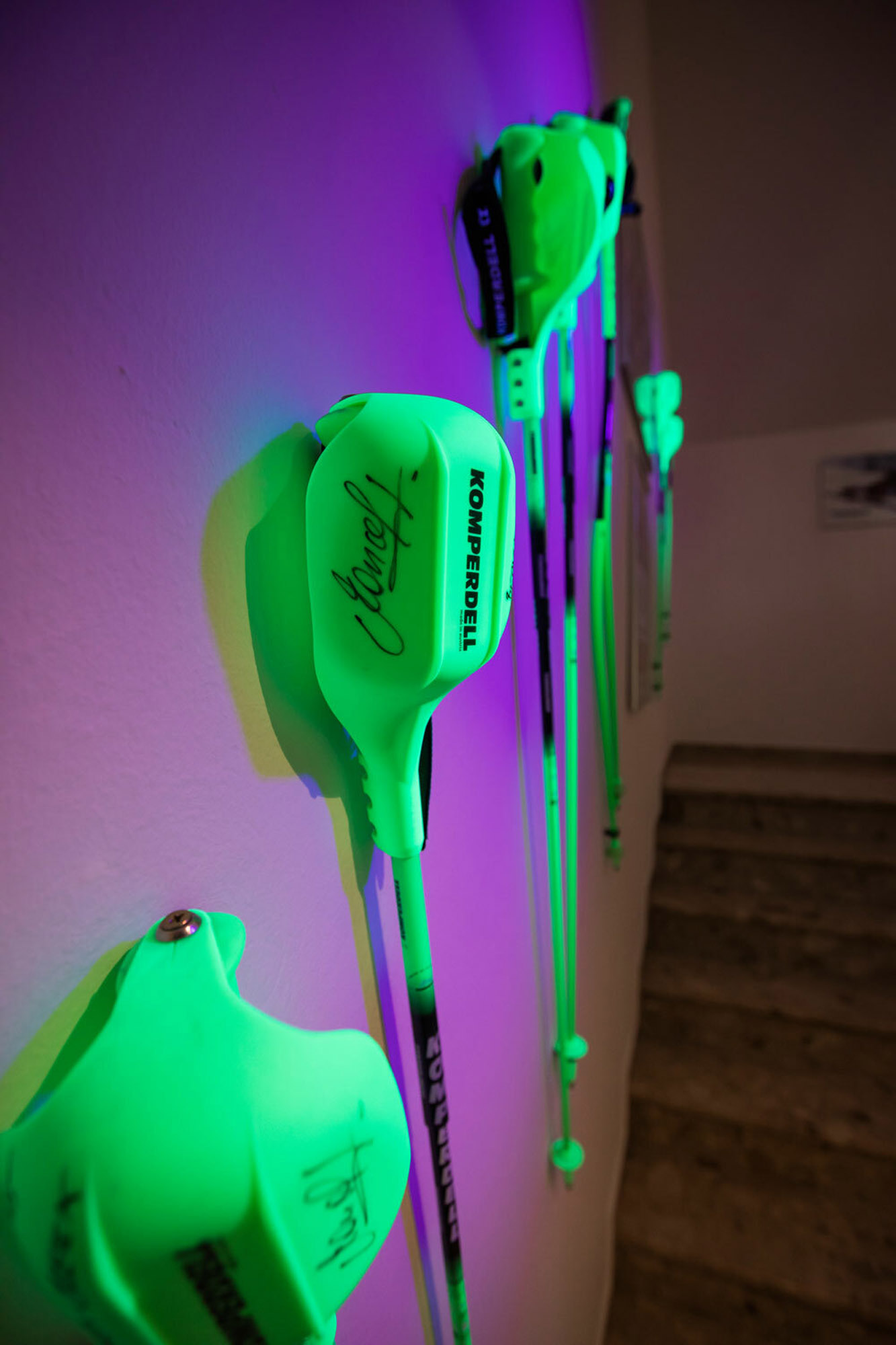 2006
Entry into "green age"

We produced our first neon green poles which are firmly embedded into our brand image in the meantime.
Top athletes at Komperdell – we represent one of the most successful brands in the Ski World Cup.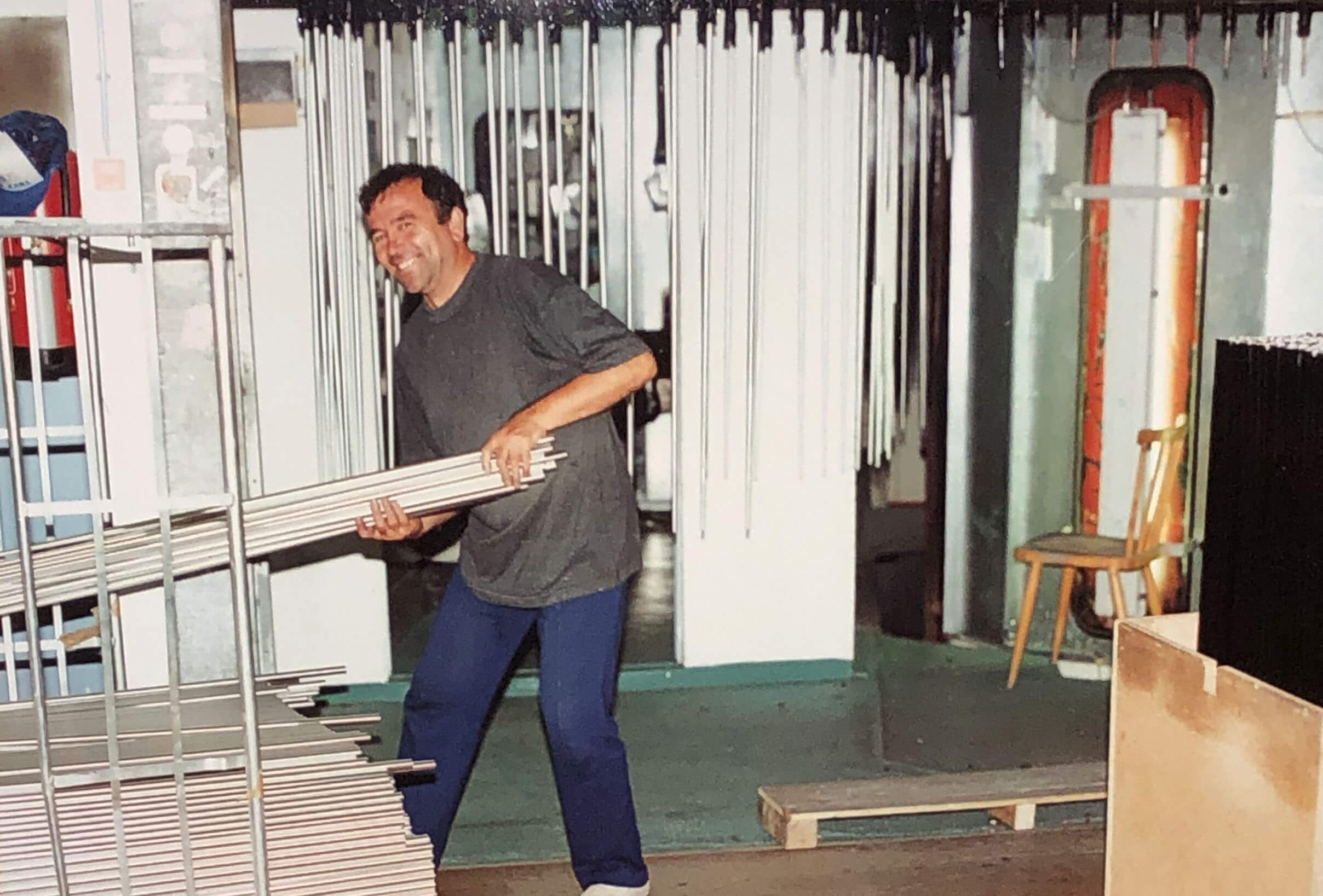 2004
Production of 1 million pair of poles
For the first time in history Komperdell produced almost 1 million pair of poles in one year (997,000).
A new building was planned to enlarge the production site by 5,000m². The doubling and complete rebuilding of the KOMPERDELL facility was covered by an investment of 25 million Schillings. The result was a completely new production site with the most modern machinery park, which was a big step forward towards an even faster production.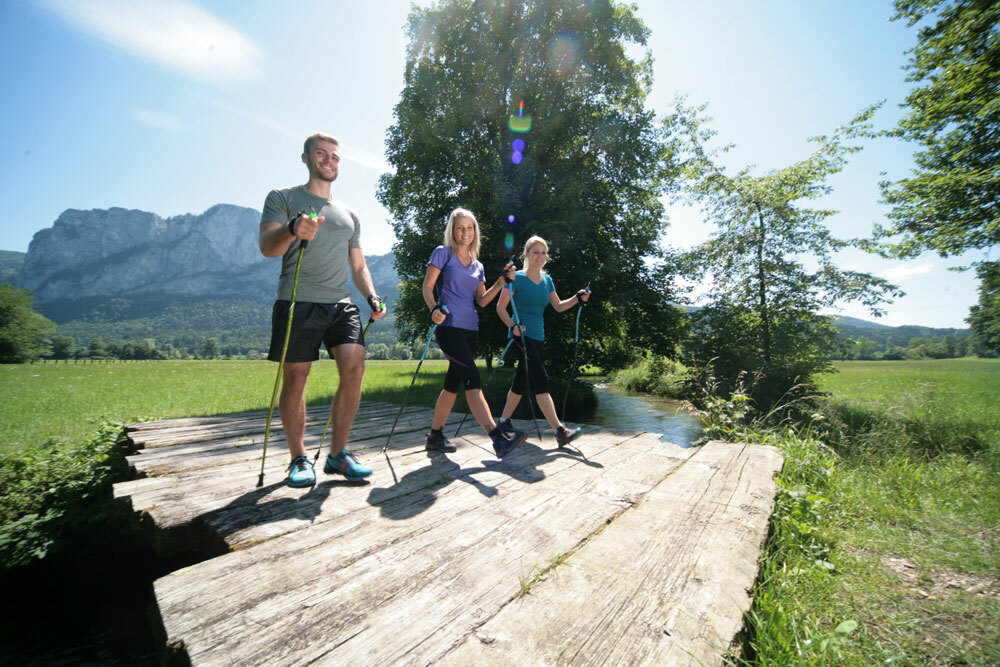 2003
Nordic Walking – the new fitness trend

Komperdell had not only the right poles for alpine and trekking, but also for the new trend called Nordic Walking. The lightest Carbon Nordic Walking poles were quickly introduced to the market – perfectly balanced for unrivalled walking feeling.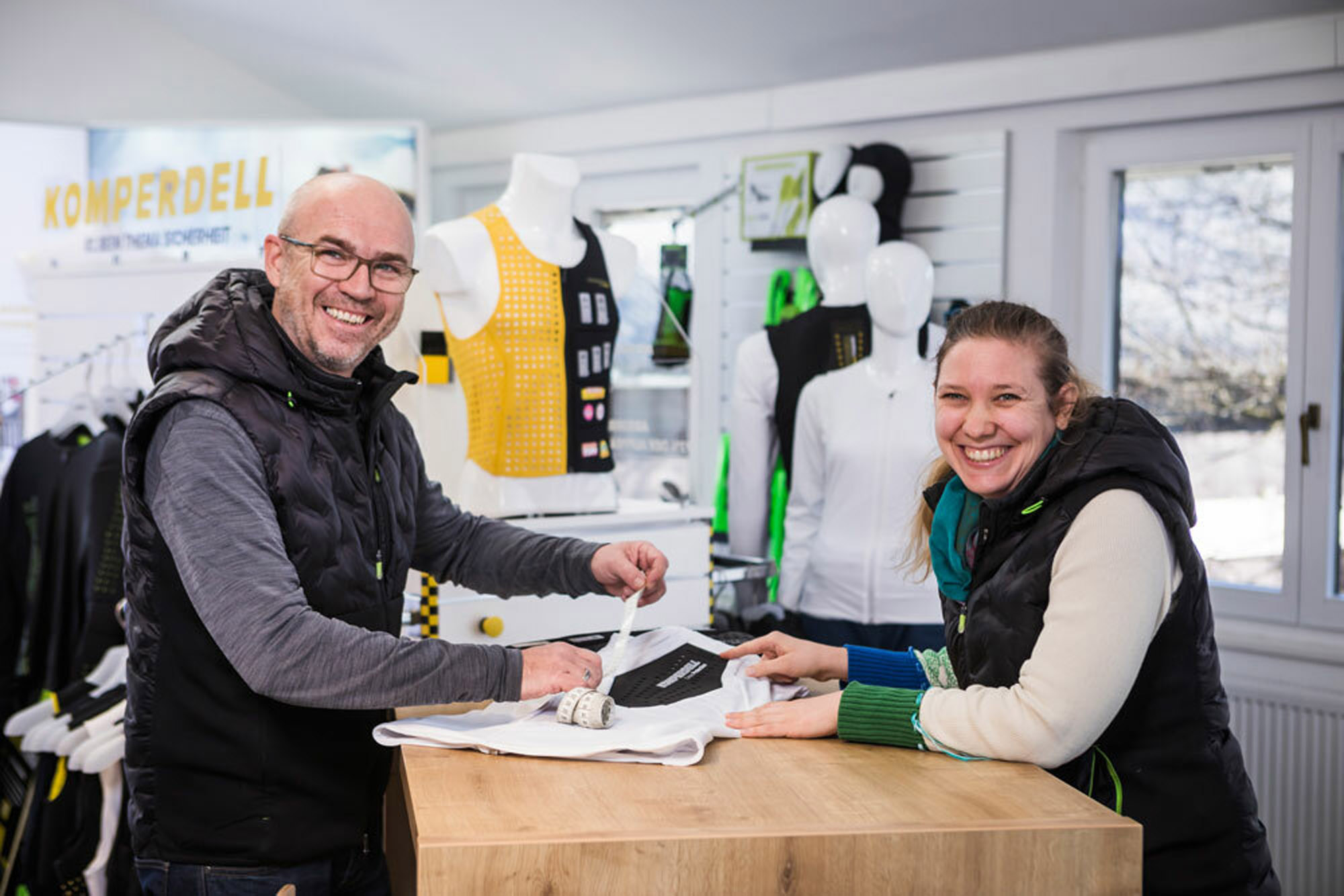 2002
Protection line and development of Titanal
In the new millennium, Komperdell revolutionized the standards of telescopic poles with our new material – Titanal – the highest strength aluminium alloy ever existed. Together with our Austrian partner company we conducted raw material research and succeeded for the first time ever in producing Titanal in the form of welded pipes. In the same year we also started our specially developed protection line which we tested and developed in cooperation with and for specialists like KTM (the leading off-road-motorcycle manufacturer in motorsports).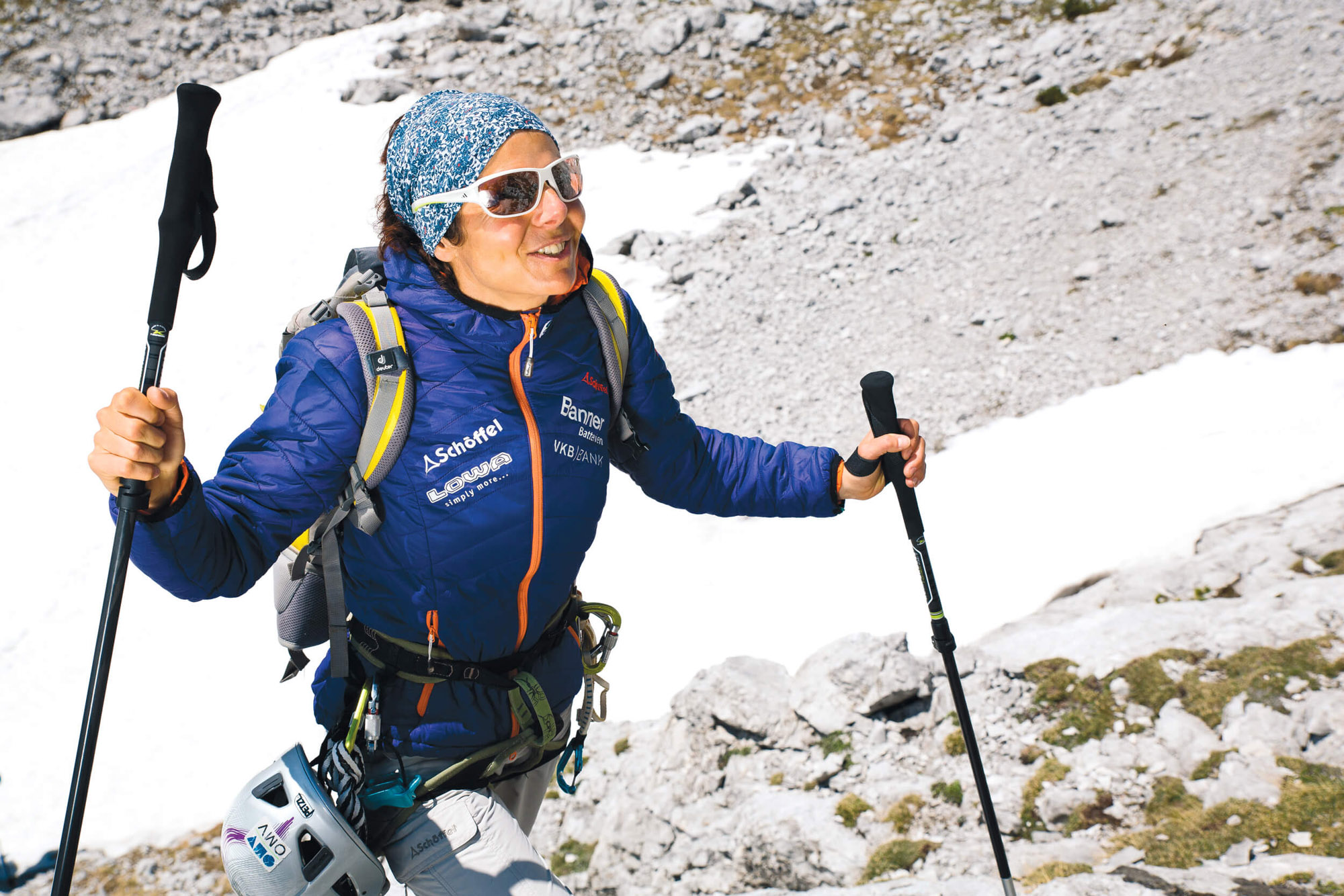 2000
first Powerlock adjusting system
Through 35 years we overhauled and improved our lockings over 10 times. Meanwhile we are the only manufacturer to produce a locking completely out of forged aluminium, which still is until today by far the strongest lock on the market. Our poles offer a maximum holding force of 198 kilos.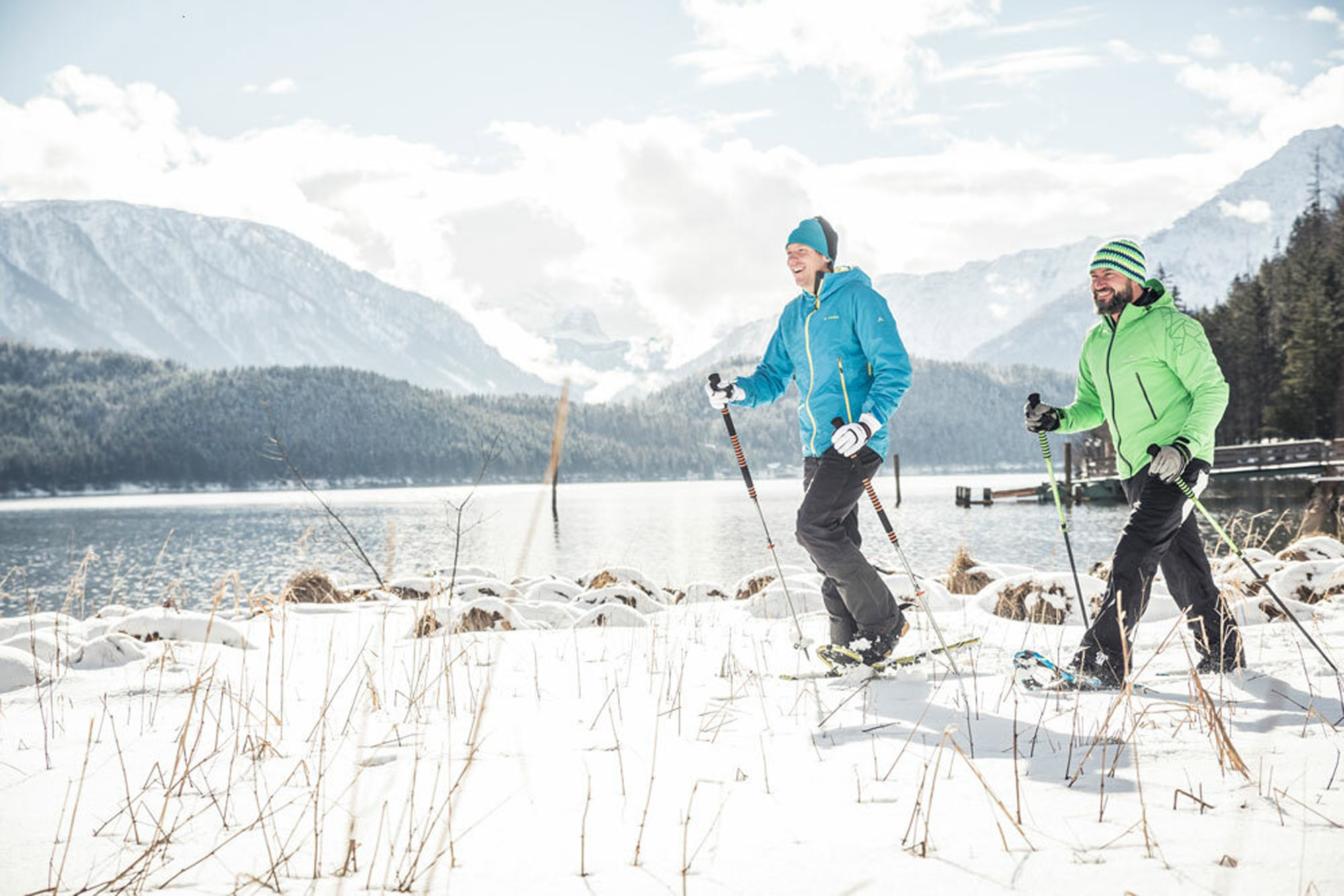 1999
Development of our first snowshoe
We started the snowshoe market with our partner Reedfather in America and so we brought the modern snowshoes to Europe, too. With this know-how and many years of experience we succeeded in a ground-breaking innovation 20 years later – the first snowshoe 100% made of carbon.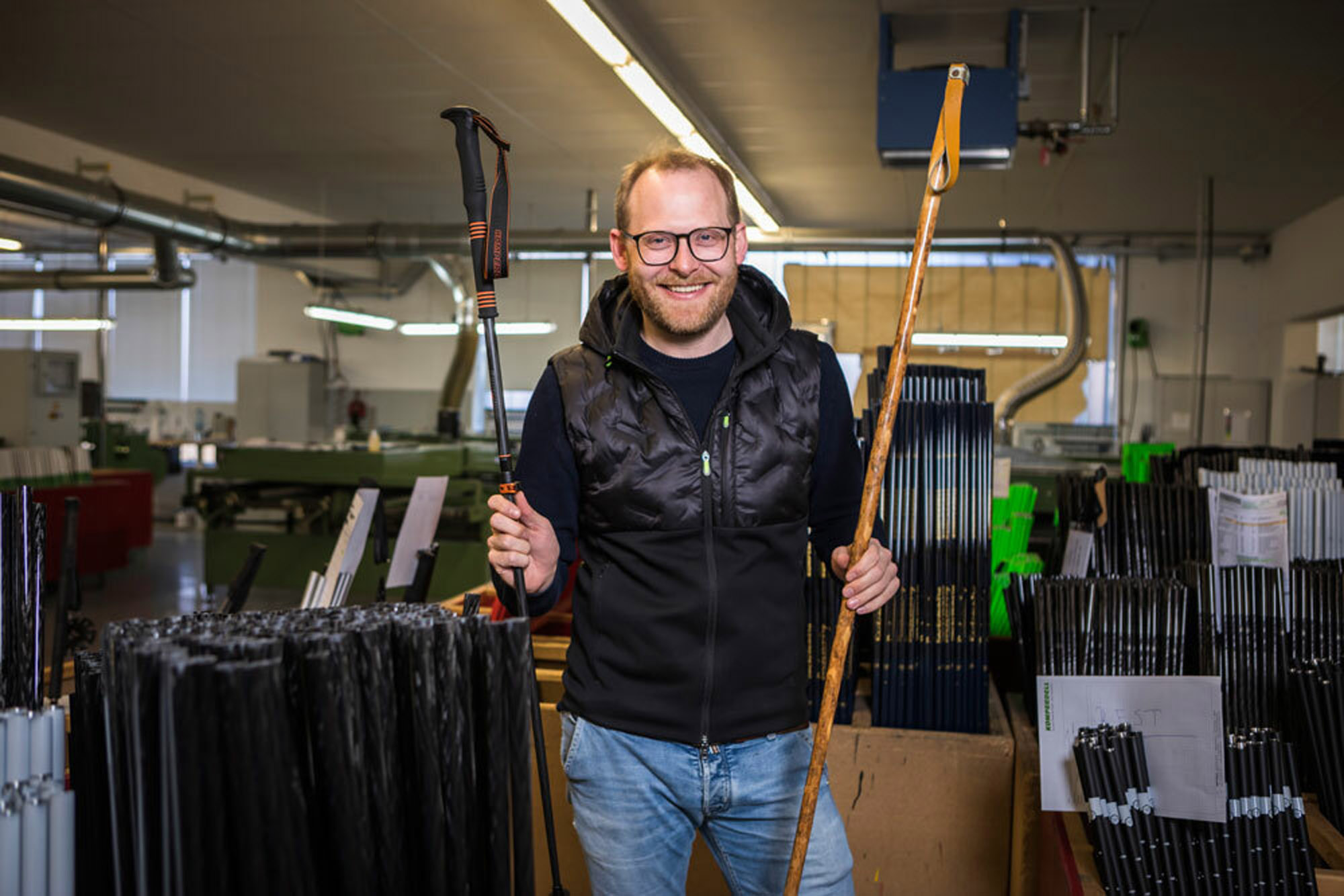 1998
Unique technologies and materials
Carving and snowboarding became trend, winters were getting warmer and the industry's pessimists predicted a soon end of the ski pole! The technologies and materials of touring and trekking poles did constantly improve and research drove. Neoprene padded straps, contour grips (an invention of Komperdell) and Carbon poles were standard now.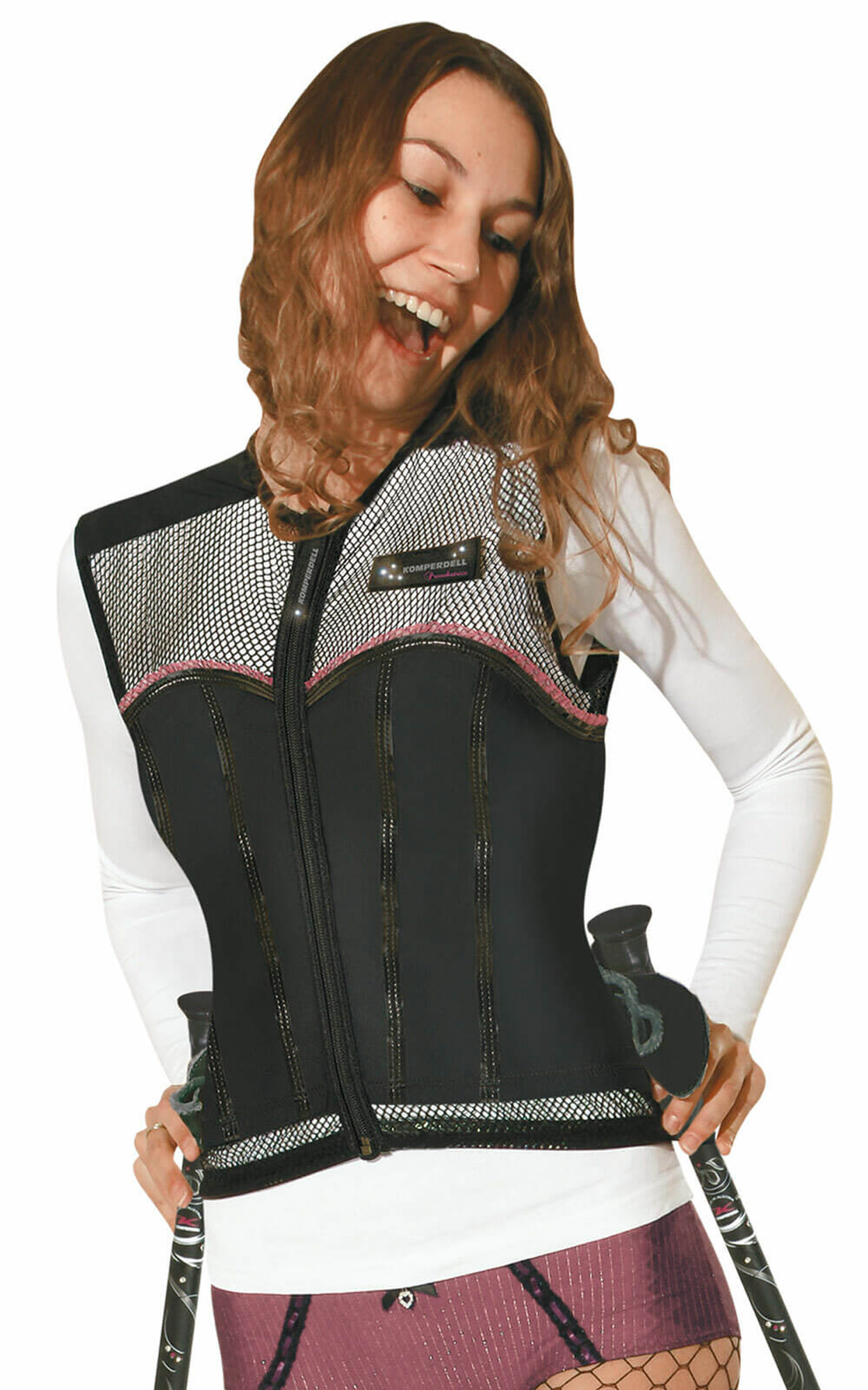 1997
Development of our first back protection line


Our first back protection collection was developed. We started with motorcycle protection in the industrial sector and used our gained knowledge to develop protectors for winter sports with the largest protection zone. Meanwhile we are leading in innovative developments in the sectors of winter-, equestrian- and bike sports for more than 20 years. We are the only brand to develop and produce our own protective technology as well as the garment itself. We shape the market like no other brand.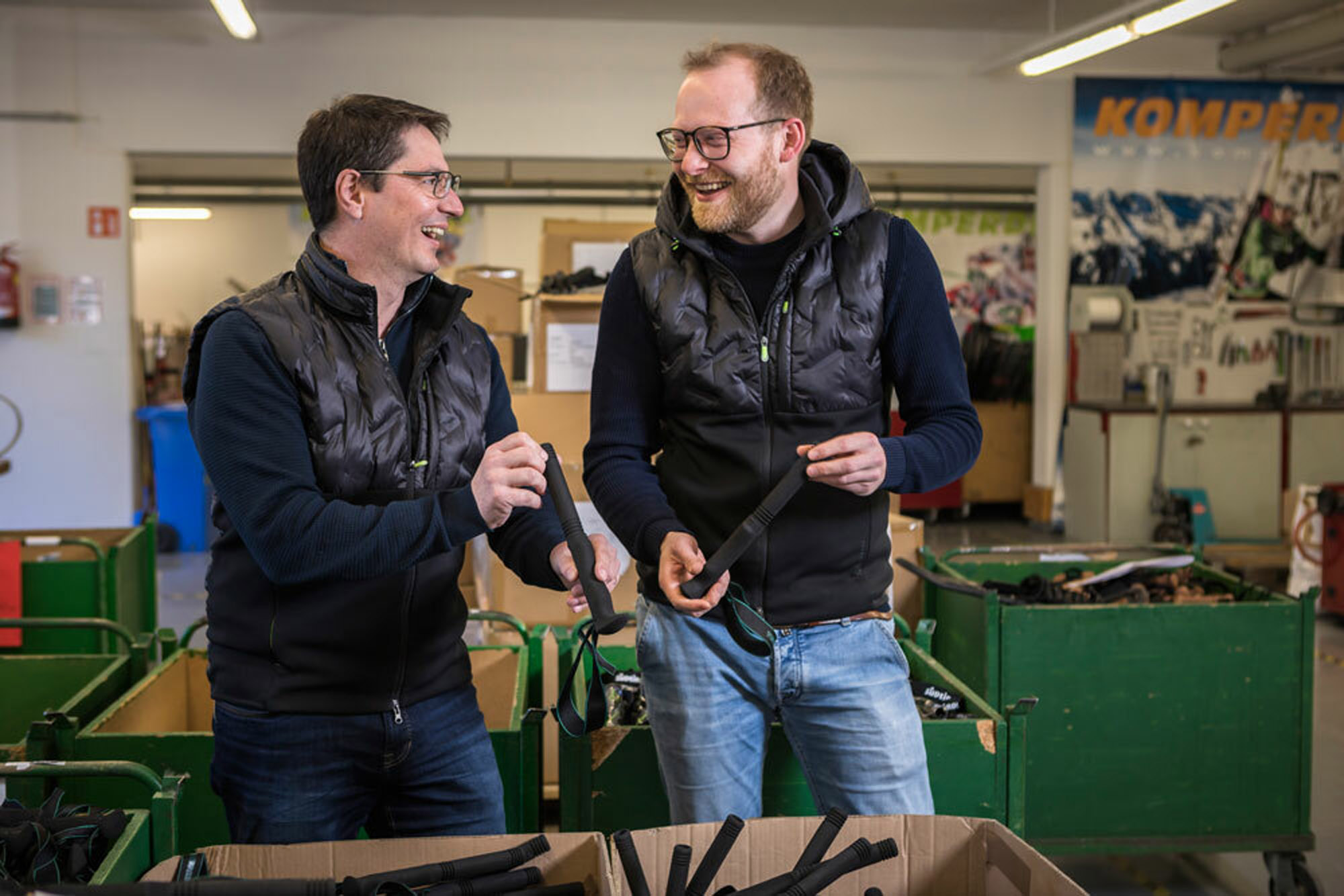 The 90's
The decade of technological developments
Mobile phones gained popularity slowly, the first colour copier entered the market and Windows triumphed with its operating systems 3.0 and 95. Also KOMPERDELL invested a lot of time, money and manpower into research of new materials and technological developments. The market was ready for excellent products at fair prices and the sales were booming. Especially lightweight poles out of the new material "carbon", new efficient suspension systems (Antishock on/off), exclusive grip concepts (contour grip, foam grip - unique and only from Komperdell) conquered the market. Komperdell products were attracting international attention and became one of the most popular products on the world market. Always better and one step ahead is our slogan.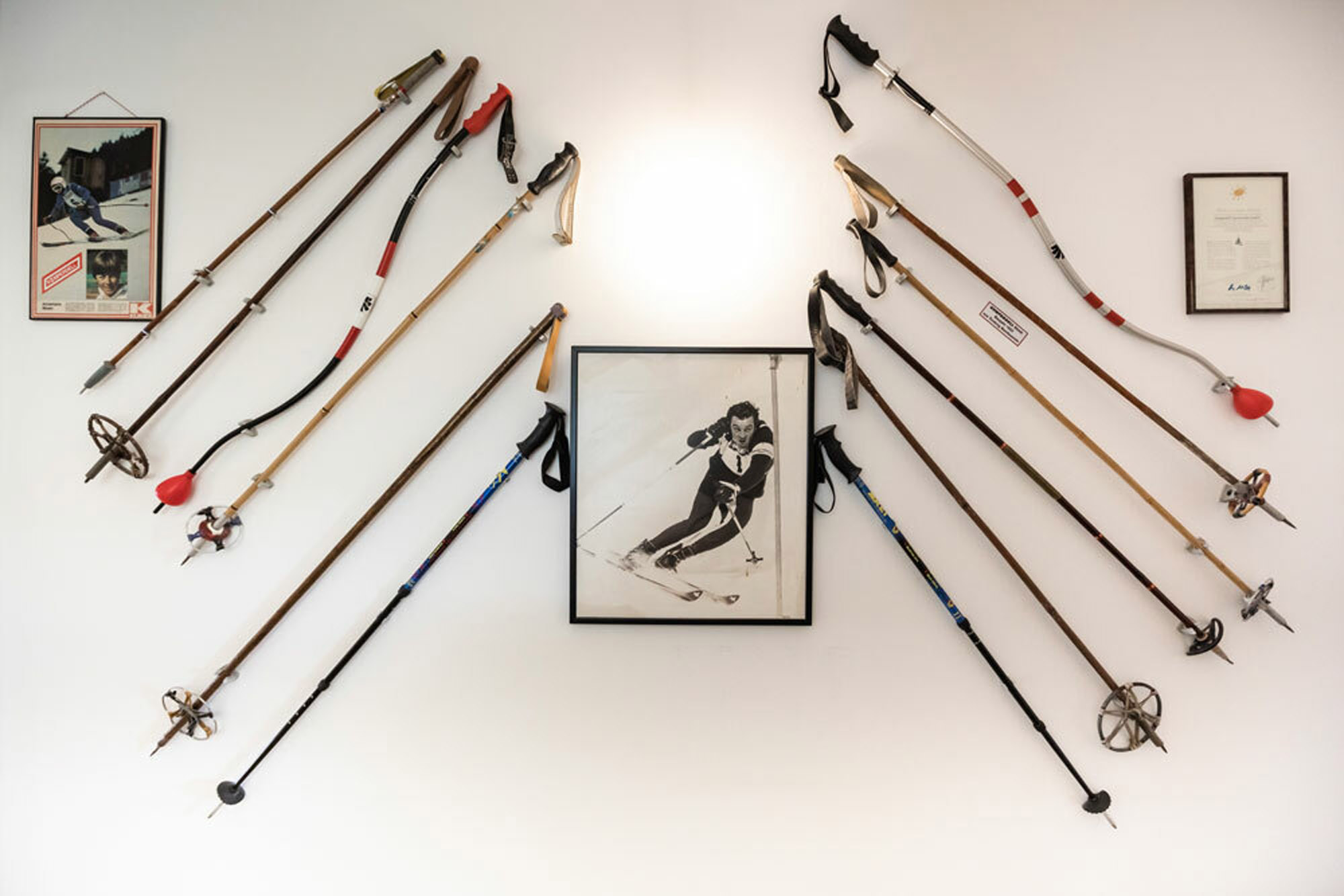 1986
Production of the first trekking poles
In the 1990s, wooden poles got replaced by length-adjustable metal poles developed on the basis of ski poles. Such telescopic poles also had straps like those on the ski poles, followed by locking systems and length adjustments.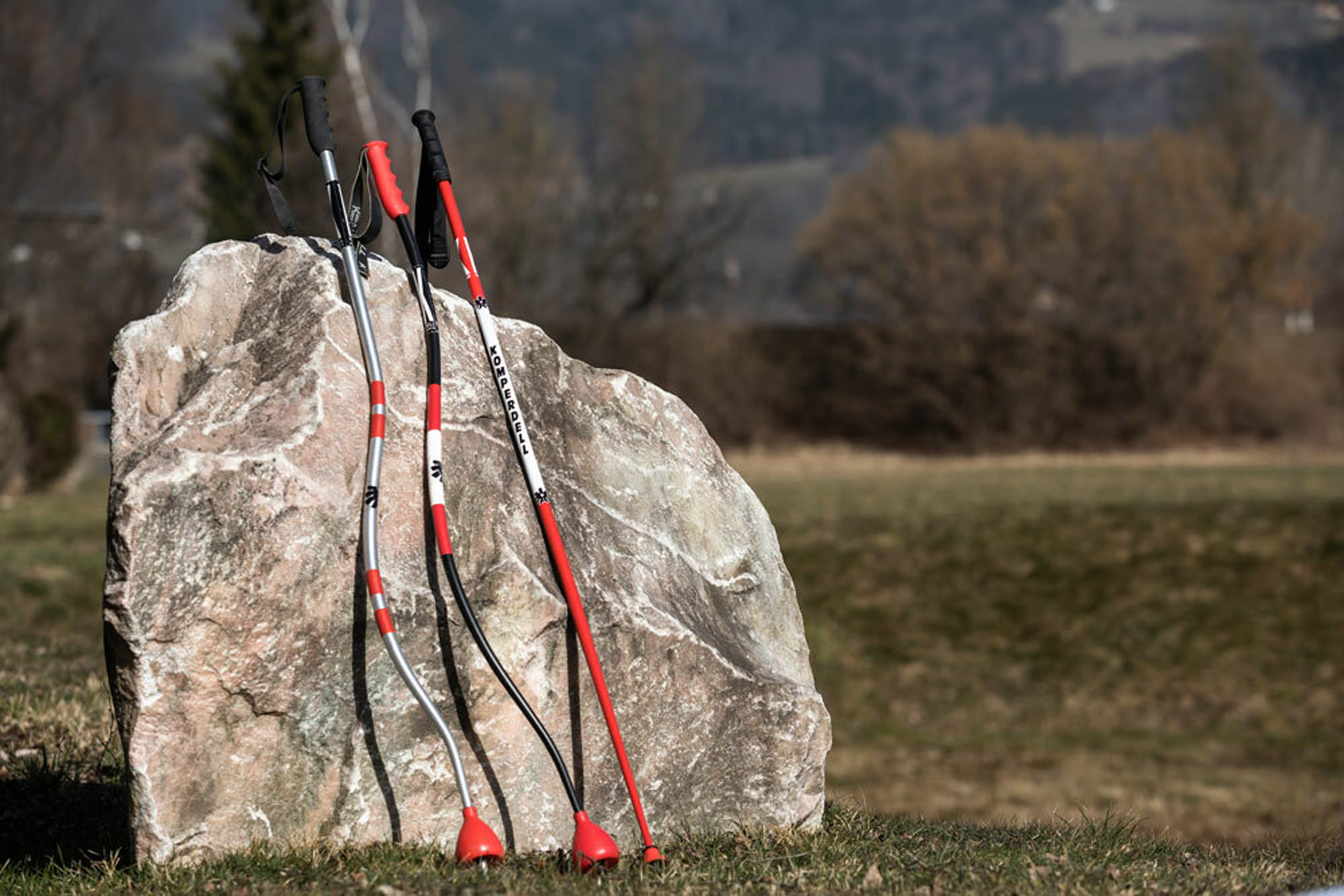 1986
Specialist in aluminium and carbon
Komperdell is specialist in processing aluminium and carbon and has launched the first bent downhill poles. The aerodynamic shape ensures maximum speed. The love to our athletes means the world to us and we do not just want to satisfy them, but excite them every day anew! Out of this motivation, we offer our athletes an individual service to be always one step ahead and to equip them with the best possible material.
We are the only pole manufacturer to develop and produce our carbon shafts on our own. We also control the heat treatment of our aluminium poles. Thus, we are the only one to process unwrought Titanal.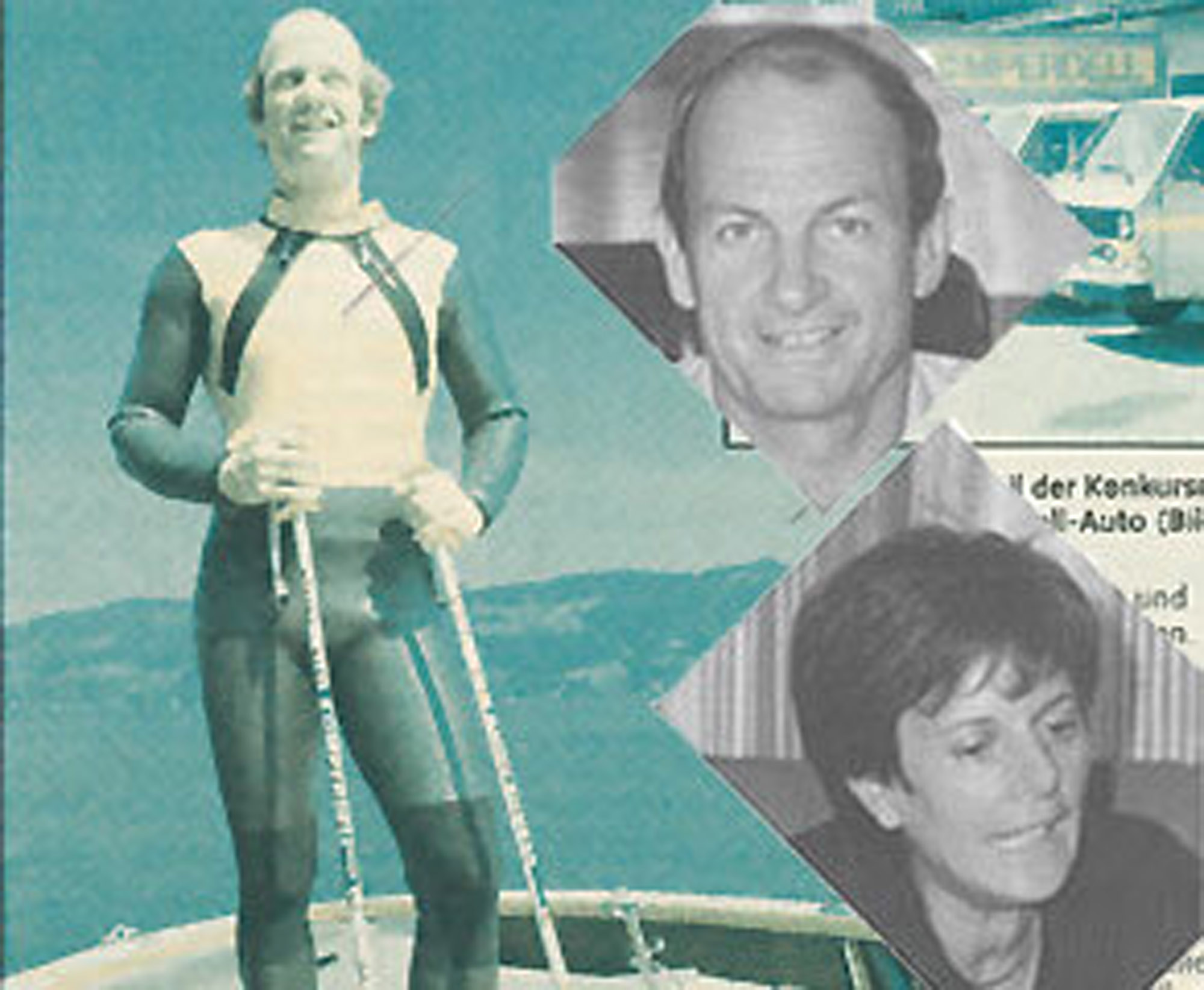 1983
Family ROISER (CAMARO) took over KOMPERDELL
Erich Roiser took over the company KOMPERDELL since the family Bednar had financial difficulties. Until 1983 only active in water sports, the successful company CAMARO was looking for a counterpart to the summer-focused business to establish a second mainstay. Since Komperdell worked mainly in winter business, the takeover was the perfect complement. KOMPERDELL was completely modernized and repositioned. An investment of 20 million Schillings in the machinery park created the world's most modern pole production at that time. KOMPERDELL developed into a technology leader in the sector of skiing and telescopic poles on international markets. Of course, environmental protection already played an important role at that time. Great emphasis was placed on integrating the factory buildings with a production area of 5000m² harmoniously into the landscape. The factory was and is still located in one of the most scenic areas of Austria. The first managing director to Erich Roiser is his brother-in-law Heinz Bachmann.